Shop/Studio


Hours: Open every Weekday afternoon from 1-5 and by Appointment, 315-286-1350. I'm located 6 miles east of the village of Croghan, on the Soft Maple Road ...see google map.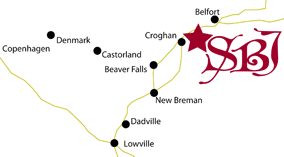 Welcome!
I started silversmithing over twenty years ago, took some time off to raise our two sons and tried my hand at basket making, then returned to my first love in 2002. I truly enjoy being back at the bench!
All of my jewelry is hand constructed by me, I do not cast anything, I build it. My tools consist mostly of a torch, some hammers, an anvil, pliers, a drill and a coping saw. For raw materials I buy sterling and fine silver in the form of wire, sheet and some tubing. These materials allow me to make handmade sterling silver jewelry and much more. Many of my stone cabachons are acquired from rock and mineral dealers and I use a great deal of dichroic glass cabochons that I buy directly from the glass artists that create them.
While I enjoy making all types of handmade jewelry near the Adirondacks, my specialty is chain making. It's very rare to find a smith that makes chain these days. Right now I have over 30 different styles of handmade chain in stock, not including the varying wire types and wire sizes of those 30 styles. I also create cuff bracelets, pendants, earrings, pins, bolos, belt buckles, and rings. All are one of a kind and hand made with an artist's attention to detail.
Please note that all pricing on my site includes insured shipping with delivery confirmation, and any applicable sales taxes. The price you see is exactly what you will pay!
I take great pride in my workmanship and in my products, including my silver rings and silver pendants. I truly hope you enjoy my site.
Thank you for visiting!