Necklace lengths usually are as follows:
15-16" is a choker length
17 -20" is a nice length for most women
20 -24" is nice length for most men
Of course you may order any length you prefer. I like to wear a few chains at once and often have a shorter 17" one, then a 21" and a 25" chain on...that creates a nice look each chain sitting inside the next.
I also encourage you to add a bracelet chain to the back of your necklace if you would like to create a longer necklace depending on your preference.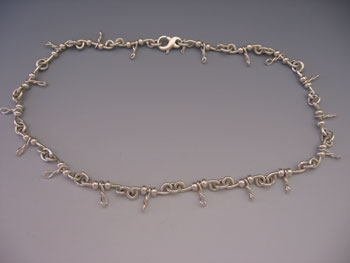 Barbed Wire Chain (N71)

Named by one of my customers for it's resemblance to barbed wire. The sterling links are made from medium weight round wire and are adorned with beads and a tiny floating twisted link. Then the links are joined with a heavy jumpring. Measures 19.5" long.

$350 (Includes shipping & tax)

Order Now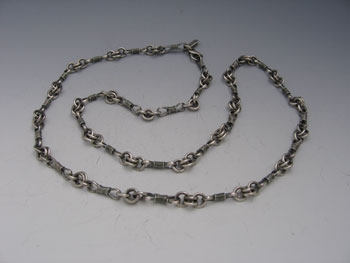 Bow Knot Chain (N74)

A bow knot is made by wrapping oval loops with ultra fine wire in the center forming tiny bows. Each bow knot is joined by a jump ring making an intricate chain. Measures 21" long.

$325 (Includes shipping & tax)
Order Now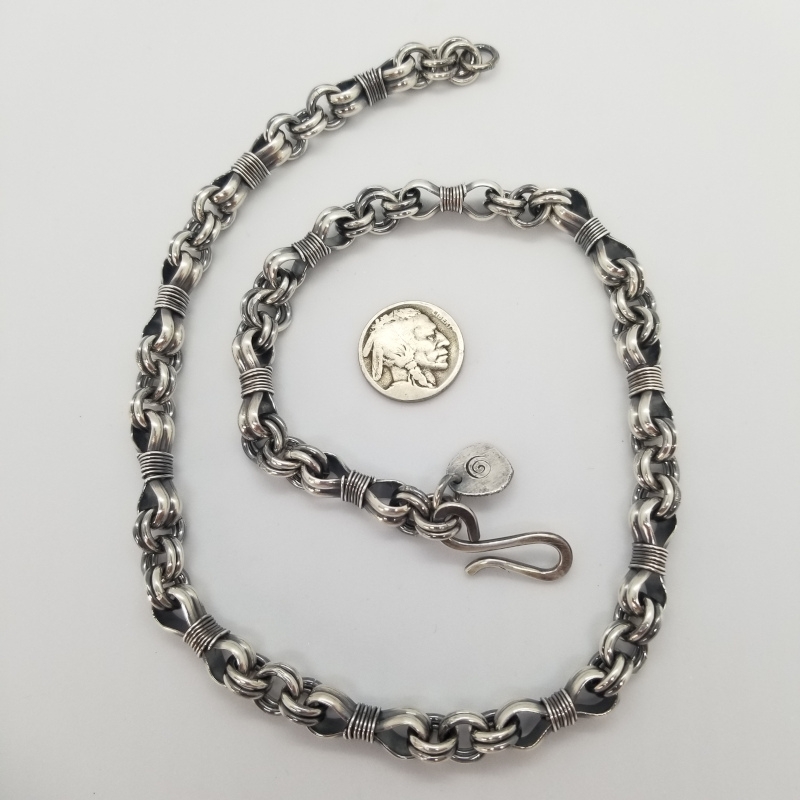 Bowknot Double Cable Chain (N88)

Hand made bowknots formed from chunky double half round wire and wrapped with fine silver then joined with double cable rings. This is one of my favorite chains that we make, I wear this chain in a bracelet length and the bowknots are wrapped with 18 karat yellow gold! This chain measures 20" long and about 3/8" wide with a nice heft to it.

$675 (Includes postage and tax)
Order Now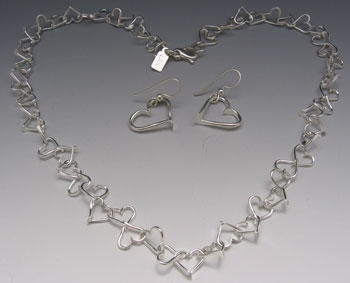 Cascading Heart 18

Each heart is hammered, shaped and soldered together to make this unique 18" chain for someone very special, add the large heart earrings to complete the set.

$375 (Includes shipping & tax)
Order Now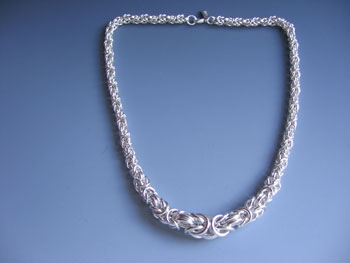 Graduated Sequential Necklace (N64)

A truly classic chain of understated beauty that can be worn with jeans or your best dress. I start with a large 12 ga. sequential link in the center and add 14 ga. sequential links on either side, then 16 ga. sequential links and finish the chain with several inches of 18 ga. sequential links to the desired length. This one measures 18" long and the center link is 1/2" wide.

$600 (Includes shipping & tax)
Order Now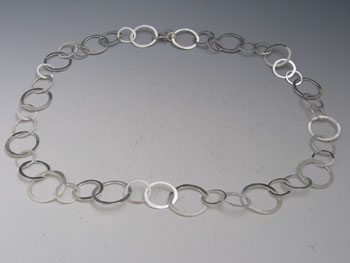 Hammered Hoop Chain Necklace (N67)

This light and sparkly chain is made from 3 sizes of hoops each made from a different gauge wire. The hoops are soldered together and then carefully faceted with a hammer to make it shimmer as you move. Definitely the most popular chain that I sell. This one measures 18" long and has a lobster clasp.

$175 (Includes shipping & tax)
Order Now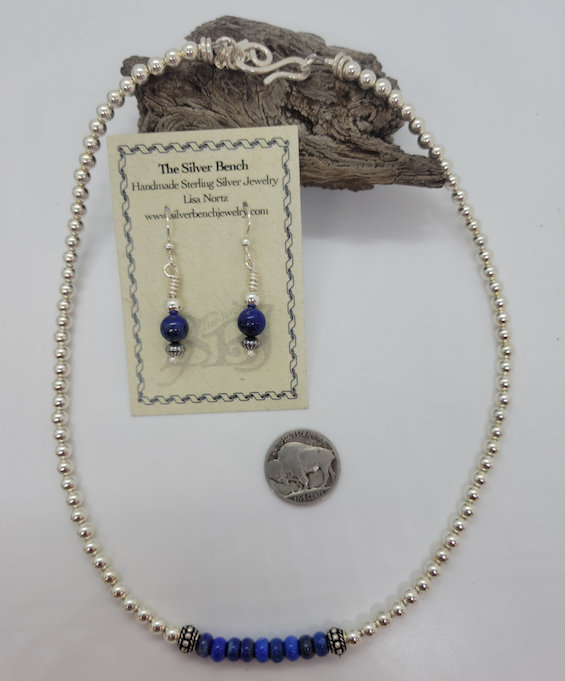 Lapis & Silver Bead Necklace (N153)

Tiny silver and lapis beads make a pretty little necklace. The necklace measures 18.5" long. *Matching lapis bead earrings sold separately.
$150 (Includes shipping & tax)
Order Now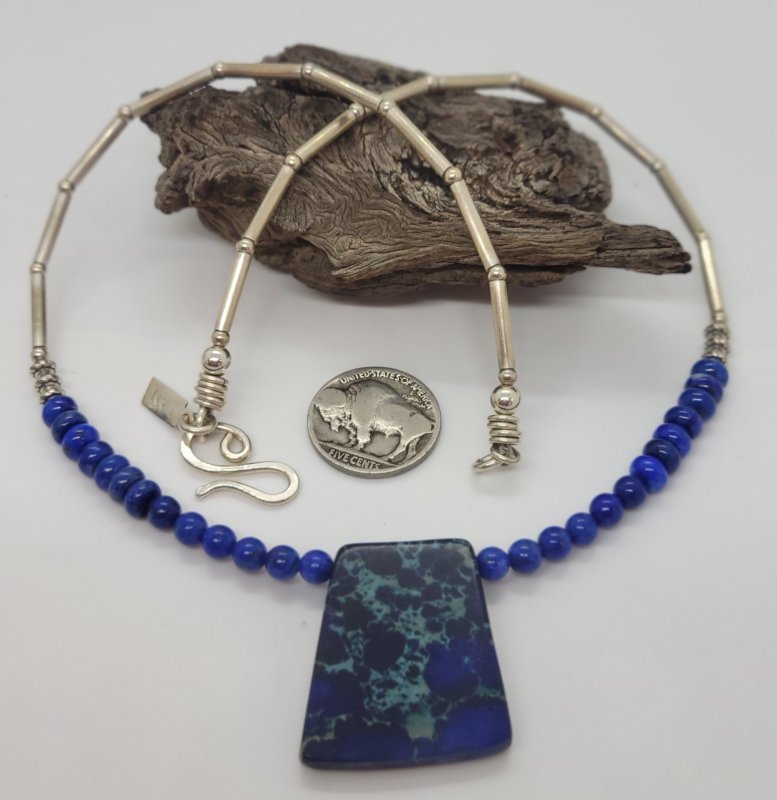 Lapis Bead & Tube Silver Necklace with Blue Sea Sediment Jasper Center (N154)

The blue lapis beads nicely accent the blue sea sediment jasper center on this 19" long necklace. The sterling silver beads and tube silver finish this piece nicely and we have used a handmade clasp at the back.

$215 (Includes shipping & tax)
Order Now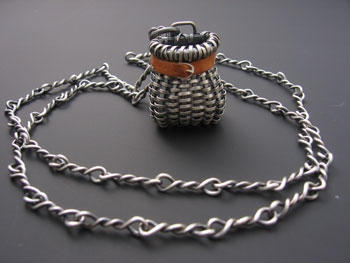 Miniature Adirondack Pack Basket Necklace (N79)

The classic pot-belly shape of the Adirondack pack is recreated in sterling and fine silver. I have woven this basket in the same manner that a natural fiber pack basket would be woven. There are only a few exceptions, one being the handle which I solder to the rim instead of inserting it down into several rows of weaving and the stakes are not bent over the rim row and tucked into the weaving, they are soldered to the rim row. Measures about 7/8" X 3/4" X 1-1/8" high. I even make the leather strap and silver buckle at the rim. The handmade twisted link chain measures 24" long and slides through the jumpring attached to the basket handle.

$600 for the set (Includes shipping and tax)
Order Now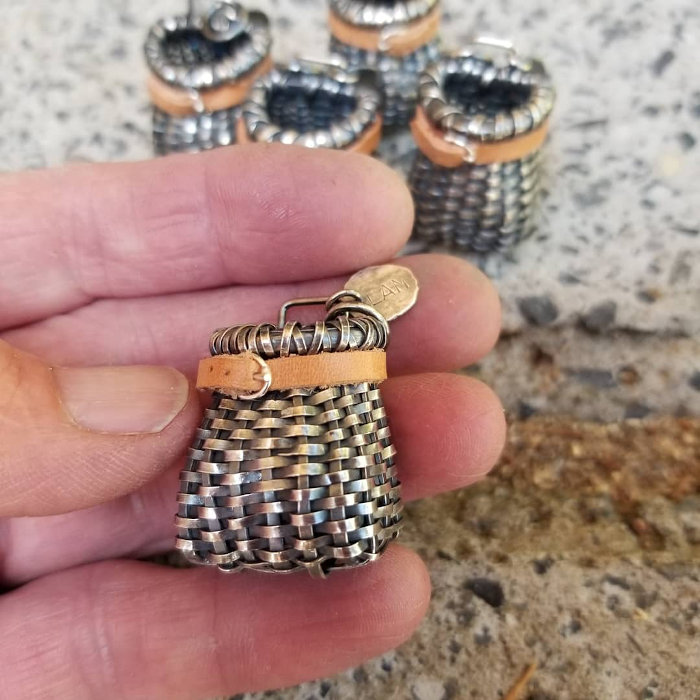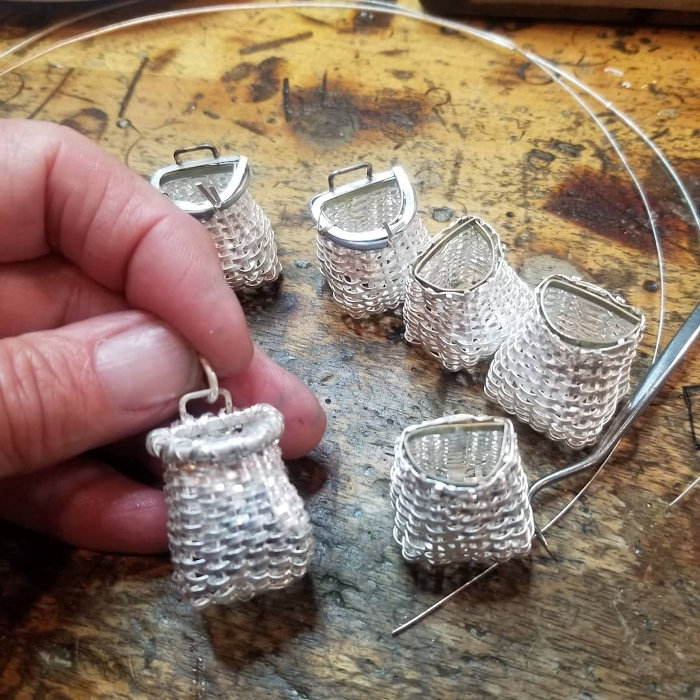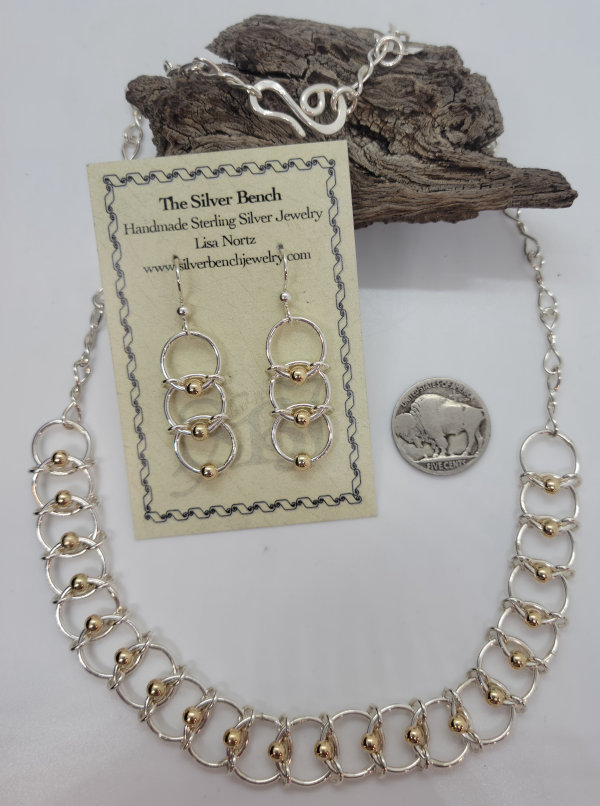 Rio Chain Necklace & Earring Set (N151)

Our handmade Rio chain is made up of sterling silver rings with 14 karat gold beads, the contrast between the two metals is eye catching and works well for people that like to wear both metals together.
We use our twisted link and handmade clasp in the back, which allows you to shorten the chain a bit, if you hook the clasp in a different link and let the extra chain hang down the back.
The Rio chain earrings are made the same as the necklace and measure 1.75" long including the sterling ear hook. We can change the ear hook to a 14 karat gold ear hook for an added charge if you like. The gold ear hook looks great!
The necklace measures 19" and the earrings have a sterling silver ear hook.
$640 (Includes shipping & tax)
Order Now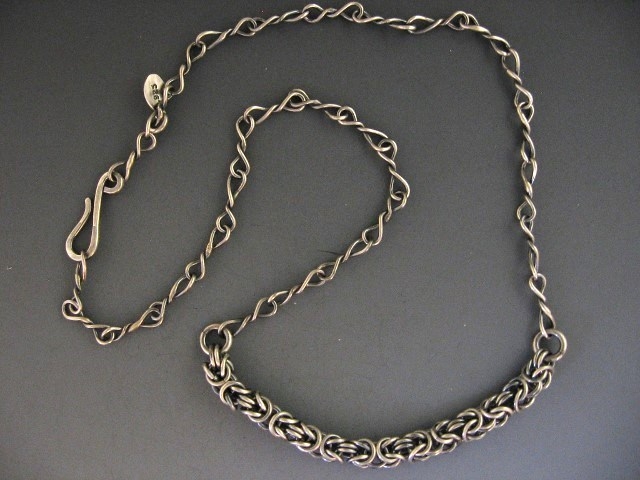 Sequential Center in a Twisted Link Necklace (N138)

This fine twisted link chain has a center section of sequential chain, an ideal necklace for people that prefer a more delicate looking chain at an affordable price. May be ordered any length, this one is 16" and the chain can be oxidized as this one is or shiny.
$160 (Includes shipping & tax)
Order Now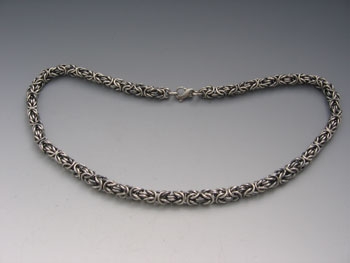 Sequential Necklace 18 Gauge (N75)

You'll feel the quality of this necklace in it's heft and smoothness in your hand. The classic sequential design is beautiful and timeless. Measures 17" long with a lobster clasp. Shown oxidized but may be ordered shiny also.
$425 (Includes shipping & tax)
Order Now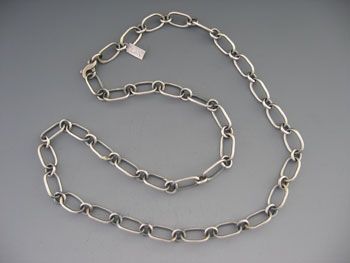 Small Oval Link necklace (N92)
A small, more delicate version of the chain that I have worn daily for the last few years. I've oxidized it and joined each oval link with a small jumpring. This chain measures 20" long and about 1/4" wide. Makes a nice bracelet also and of course can be ordered in any length.

$150 for this length, includes postage and tax.

Order Now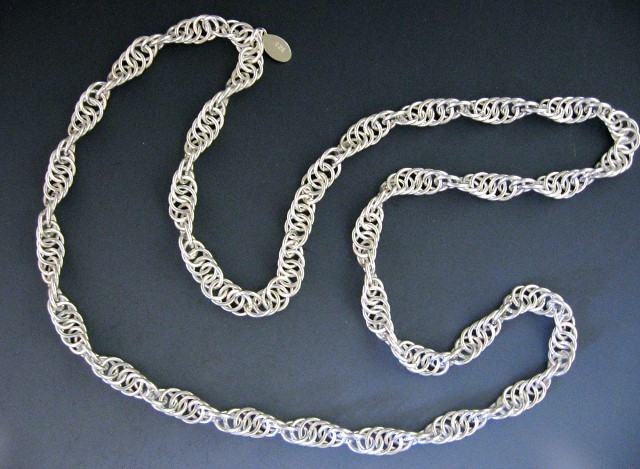 Spiraling Chain (N62)

This graceful chain moves with you in a fluid motion, it's like wearing a piece of liquid sculpture. The width is 1/4" and the length measures about 24" allowing the chain to slip over your head. The clasp has been eliminated to maintain the spiral. This sparkling sterling silver hand made chain has lots of movement and catches the light even when you are still. One of the most attention getting chains I make!
$350 (Includes shipping & tax)
Order Now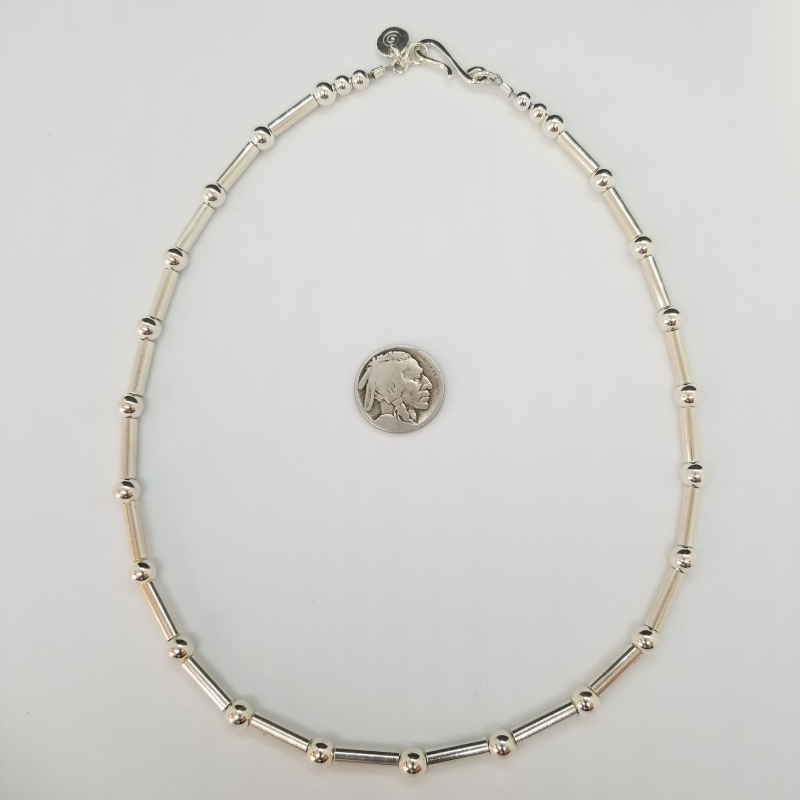 Tube Silver and Bead Necklace (N77)
We cut sterling silver tube into 1/2" lengths and combine the tubes with sterling silver beads to create this classic beauty. I especially love the clean lines of this necklace and it has a nice weight to it, just under a troy ounce. Measures 18" long and includes our sturdy handmade clasp.

$250 (Includes shipping & tax)

Order Now